s2309
Title:
The Hereafter
Author:

breadedsinner
Rating:
PG-13
Tracks:
10
Cover/tracklist dimensions dimensions:
500x500 pixels
Content Notes:
War/battle imagery, grief
Disclaimer:
Not mine.
Credit:
Images courtesy Google Images (filtering for images labeled for noncommercial reuse with modification) and Pixabay.
Author's Note:
My commentary may be spoilery for as yet unposted parts of the fic, so I'll add it to this post later.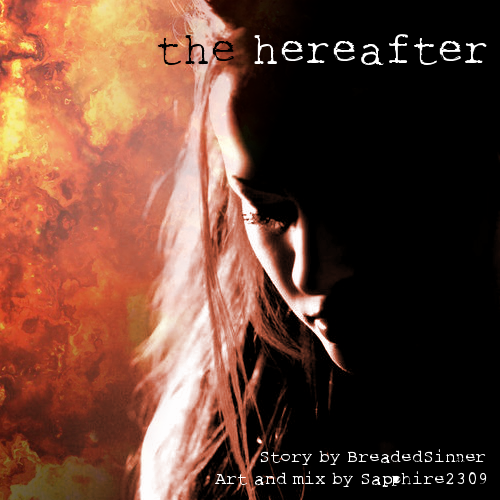 Next Time Around - Emiliana Torrini
Because of the architect the buildings fell down
Smothered and drowned all the seeds that you sowed
I wish I was somewhere but not in this town
Maybe the ocean next time around
Breath of Life - Florence + the Machine
It's a harder way and it's come to claim her
And I always say, we should be together
And I can see below, 'cause there's something in here
And if you are gone, I will not belong here
Broken - Seether ft. Amy Lee
The worst is over now, and we can breathe again
I wanna hold you high, you steal my pain away
There's so much left to learn, and no one left to fight
I wanna hold you high and steal your pain
Everybody Wants To Rule The World - Lorde
Help me make the most of freedom
And of pleasure
Nothing ever lasts forever
Everybody wants to rule the world
Hit Me - Emika ft. Jimmy Edgar
Hit me where you want it, and I''ll take the blame
Hit me and I guarantee you''ll feel the same
Hit me if you think that it will help the pain
Hit me, hit me, hit me, hit me any way
Pig - Seether
Have you ever wanted to die when you were without your friends?
Haven't you said goodbye to the one on who your life depends?
Could it be that I don't wanna save you anymore?
Could it be that we don't have what it takes?
Running Haunted - Heavy Melody
[inst]
Sacrifice - Bjork
Appreciate
Build a bridge to her
Initiate a touch
Before it's too late
Tiny Light - Grace Potter & The Nocturnals
It's been a long long time since I've been so afraid
As we all fall down, it's hard to see a brighter day, but
I see a tiny light like a flashbulb sparkle in the night
I see a tiny light telling everyone to hold on tight
Lifesaver - Emiliana Torrini
Lifesaver
I'm cancelling our date
Lifesaver
It's time you had a break